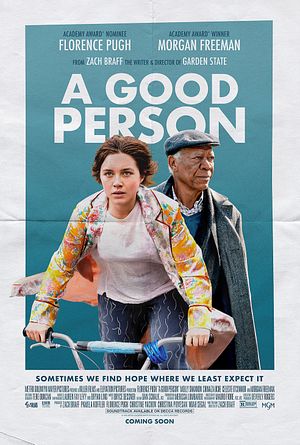 Members & guests–$15 (Estimated cost, includes $2.00 advance purchase surcharge) – purchase tickets for the 1:15 PM showing on March 25.
Every Saturday afternoon, join fellow film aficionados of the Village for an in-depth discussion of films new and old, led by Village member Mel Washburn. On the last Saturday of the month, the group will be meeting in person to view a movie at the Landmark Century Cinema (2828 N. Clark). After the film, join the group in the cinema's bar area to discuss (no drink purchase required).
This month's in person film is A Good Person (2023). Daniel (Morgan Freeman) is brought together with Allison (Florence Pugh), the once thriving young woman with a bright future who was involved in an unimaginable tragedy that took his daughter's life. As grief-stricken Daniel navigates raising his teenage granddaughter and Allison seeks redemption, they discover that friendship, forgiveness, and hope can flourish in unlikely places. Click here to view the trailer and more!
The group will attend the 1:15 PM screening. We recommend purchasing your ticket in advance to secure a great seat. Click here to purchase your ticket directly from the theater – make sure to select the 1:15 PM screening on Saturday the 25th!